Easy Access Via I-295 For Hanover County and Mechanicsville Tax Clients
The offices of Baughan's Financial Services are conveniently located one block south of U.S. 360, approximately 3 miles east of its intersection with I-295.  Our offices can be reached in minutes from any area of Metro Richmond via I-95, I-64 or I-295.  Take the Mechanicsville Turnpike East (Tappahannock) exit from I-295.  Proceed 3 miles east, then take a right turn onto Brandy Creek Dr.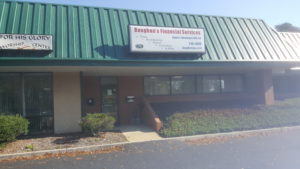 Our normal business hours are 9:00AM-5:00Pm Monday through Friday until January 18th. Thereafter our hours will change to fit the appointment schedules. On February 1 the hours will be 9:00AM-7:00PM Monday through Friday and 9:00AM-5:00PM on Saturday. If you normally have an appointment you will find a reminder card with our annual tax update letter. If you need an appointment or need to change your appointment please call us after January 24. If you normally drop off your tax work and want to continue this please help us by getting your information in as quickly as you can.